Once in a while, history Is written before your eyes. Today this happened in snooker with a player that has long been admired but has had to go on a progressional journey before finding himself. The name of this player Is Judd Trump. A player that had cultivated a brand of snooker that harnesses the game play of Tony Drago, Alex Higgins and Jimmy White, that has been into a mixing bowl, stirred and poured out onto the green baize in front of viewers across the world. This young man represents someone who has raw talent but had to have the avenue to channel his skill. Long gone are the days when a young faced Judd Trump first emerged onto the snooker scene, a child who could barely reach the table to play a shot but who had the cue on a piece of virtual string, creating virtual angles that produced century breaks.
Today's 10-3 victory over Shaun Murphy shows us that Trump believed in himself and put himself in the zone, a place that is required to be in when killing off frame and match. Judd has had to learn the hard way and experienced some bruising defeats before he reached today's triumph. His loss to John Higgins in the World Championship, 2011 was disappointing but it opened this young man's eyes to what could be and was boosted earlier by his China Open win and subsequent victory in the UK Championship in the same year. However Judd's key flaw up to this point has been his lack of focus and concentration. Rather like Ding Junhui, he had been prone to retract in his shell when thins were going wrong in a match and unfortunately when you start punishing yourself, the game will do the same to you.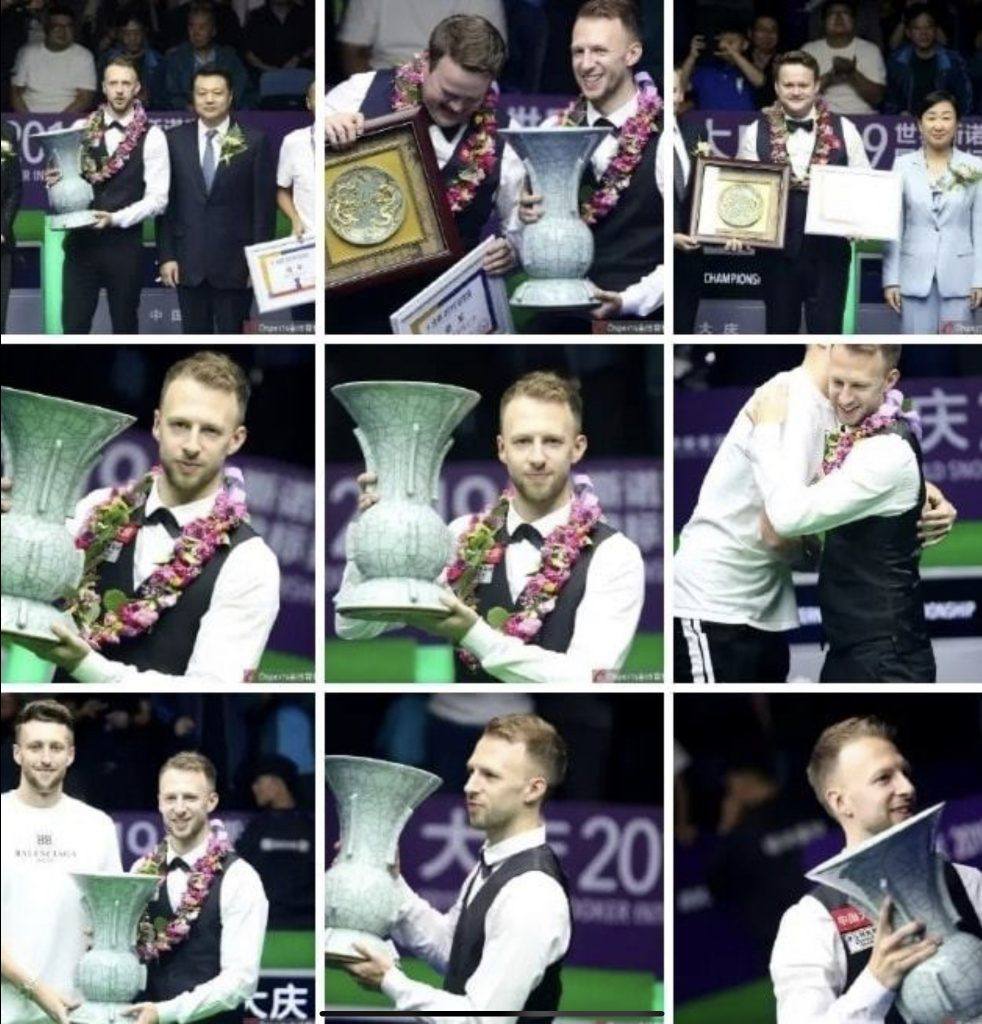 In recent months , this tide has changed and moved towards a victorious streak that some in the sport could keep him in the top 16 for the next ten years. This is credible when you look at recent statistics. In the last 8 months alone, Trump has won 5 titles, the Northern Ireland Open, the Masters, the World Grand Prix, the World Championship and now the International Championship. This change in good fortune can be traced to the special bond that he has with his family and management team, steering him in the right direction, away from the world of partying and fast cars that probably contributed to his holding back from mainstream success for so long.
With nearly four million pounds in career earnings, Judd can now be classed as one of the greatest players in snooker's history and hopefully has inspired many to pick up a cue at an early age and achieve their potential. Sport is all about having the dream and achieving it and Trump is an example of that and how hours of hard work combined with natural talent pay off. Judd has said before that he is not in love with the game but recent wins, must have shown him how great this sport can be when you are at the top of your game and succeeding. Unlike his close friend Jack Lisowski and Luca Brecel, he is now an established journeyman, taking his cue case to the for flungs of the world and bringing home silverware and monetary reward when he returns. He has achieved the Triple Crown at a very early age and now can concentrate on multiple titles in these and other events in the snooker calendar. As he has achieved nearly everything that the sport can offer, maybe now as some commentators suggest, he will take a leaf out of Ronnie O'Sullivan's book and pick and choose which events he wishes to enter in the season.
Today's win shows that it is no longer Ronnie that players should fear but instead Trump. Judd has in my opinion now officially taken over O'Sullivan's mantle as the leading playing of the game, an observation proven by him capturing the number one World ranking from Ronnie after his progression to the quarter final stage of the International Championship. Unlike the players of old, Judd produces a brand of "naughty snooker" that builds on the flair of its original innovator. Alex Higgins but unlike Higgins, Trump has had larger success. No disrespect to Alex because ultimately he is one of my snooker heroes alongside Ray Reardon from this era. Perhaps as the sport was in its infancy in their time, they had to work harder to achieve their success but saying that, all sports evolve and no player will have the same playing environment across the decades.
So as we take off our hats today for Judd's win in Daqing, so we can look forward to with pleasure, the start of a great season and with Judd at the helm, Ronnie may struggle to recapture his ground when competes in the now invitational event, the Shanghai Masters next month.Shaun Murphy May be licking his wounds at the moment after today's bruising defeat but like all great players, he will be back, Today, unfortunately he was a player that was in the wrong place at the wrong time but whoever Trump had faced in the final, would have faced the same Juddernaut onslaught and would have struggled to hold back the Bristolian tidal wave.
Here is the final for you to enjoy…..