Yan Bingtao was out to act revenge on the man who beat him in the English and Northern Ireland open tournaments in their last two meetings and book his spot in the final of the champion of champions.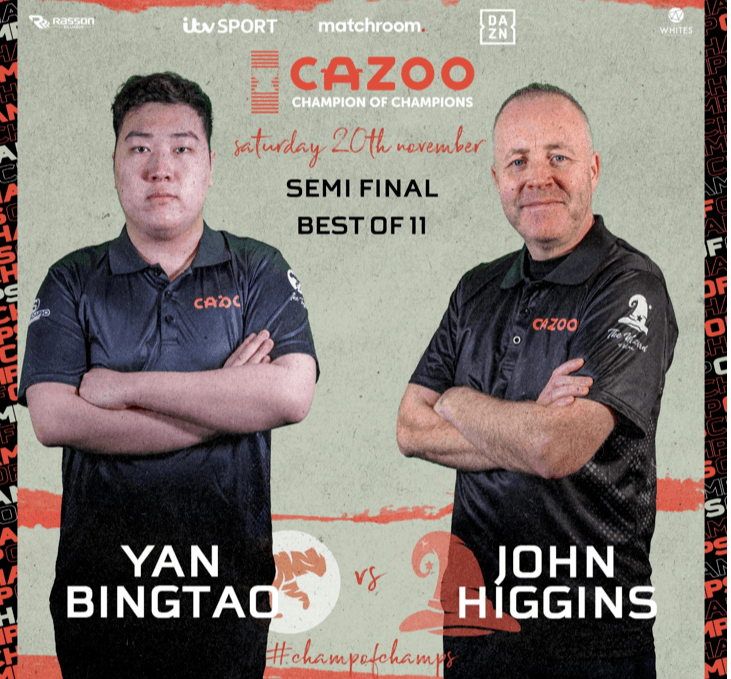 Bingtao started the better of the two players winning 2 long drawn out frames to take a 2-0 lead. Higgins sat in his chair looking despondent as the type of frames that he just lost are the type he wins a huge percentage of but Yan was matching him in the safety department. Frame 3 was much the same as the two frames that had just been played but Higgins managed to win a long tactical battle to cut the deficit to 2-1. Frame 4 finally saw some fluency as Higgins missed an early chance breaking down on 12 only for Bingtao to swoop in with a fantastic break of 74 to take a 3-1 lead at the interval.
Higgins came back strong in frame 5 with an excellent break of 65 to once again close the deficit to just one frame behind at 3-2 and continued his fightback with another top class contribution of 89 to draw level at 3-3. In frame 7 Bingtao had the first opportunity but ran out of position on 23 and left Higgins a long red opportunity which he potted and made a break of 70 to lead in the match for the first time at 4-3.
Bingtao known as "The Tiger" began to growl and pounced on a loose safety shot from Higgins and showed that he was up for this battle with a flowing break of 70 to hit back and level the match. The next two frames were scrappy but shared which led us to a decider for a place in the final.
The deciding frame begun with Higgins snookering Yan off his break off, After a few safety exchanges Higgins potted and excellent red and made a break of 89 to win this epic battle and will now face Judd Trump in tomorrow's final.