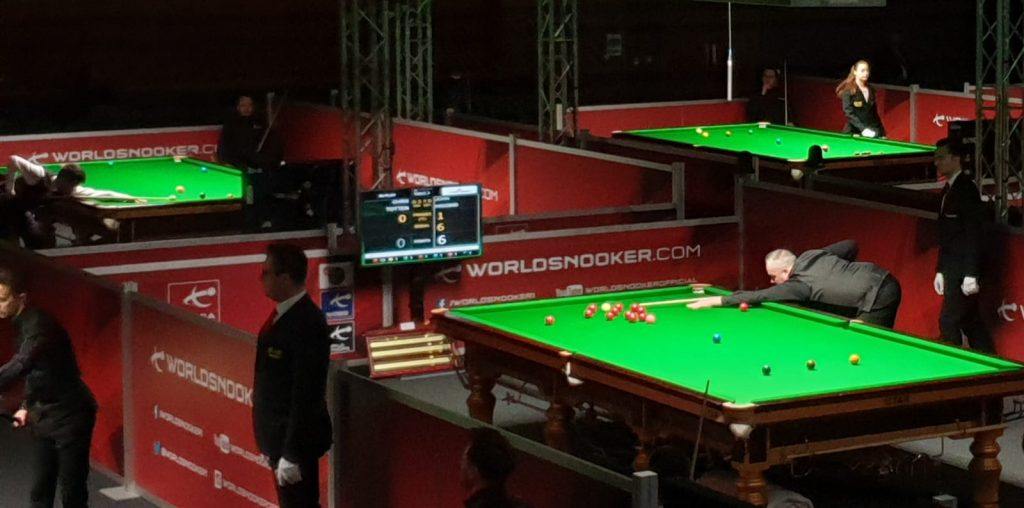 The china open is now snooker's second biggest tournament with a massive £220,000 to the winner. Prize money has trebled in the last 3 seasons and is now a showpiece event in our snooker calendar.
Snookerfans.co.uk player Kurt Maflin will be among those in the final stages in Beijing as he came through a tough examination against York's Ashley Hugill, Maflin fresh off his quarter final appearance in the Welsh open withstood breaks of 78, 92 and 140 from Hugill to wrap up a 6-4 victory and will now face Ali Carter for a place in the last 32.
Joe O'connor continues to impress as he also booked his place in the last 64 with an impressive 6-3 victory over the talented Liam Highfield. What a week it has been for the Leicester based cueist, firstly reaching his first Ranking event Semi final and now booking his place in the final stages of one of snooker's most lucrative tournaments.
Tamworth cueist David Gilbert continues his excellent recent form with a 6-2 victory over Sean O'Sullivan. Gilbert's recent form has been eye catching and us at howeveryoulikebreak.com think that its only a matter of time before he lifts his first ranking event title.
Stephen Maguire powered to a 6-1 victory over Zhang Yong and continues to play extremely well. Maguire who has recently started working with former top 32 player Chris Small looks a different player with a more positive attitude and surely will be back in the winner's enclosure soon.
Qualifying results in full below
Monday February 18th
10am
Dominic Dale w/o Rhys Clark
Liang Wenbo 6-5 Zhao Xintong
Sunny Akani 2-6 Sam Craigie
Ali Carter 6-3 Allan Taylor
Kurt Maflin 6-4 Ashley Hugill
Martin O'Donnell 4-6 Mei Xi Wen
Daniel Wells 4-6 Kishan Hirani
2.30pm
Marco Fu 6-1 Niu Zhuang
Matthew Stevens 5-6 Alexander Ursenbacher
Rory McLeod 4-6 Lu Ning
Barry Hawkins 6-3 Robin Hull
Noppon Saengkham 4-6 Jamie Clarke
Michael Georgiou 5-6 John J Astley
Matthew Selt 6-1 David Lilley
7pm
Ryan Day 6-2 Zhang Anda
Alan McManus 6-3 Luo Honghao
Thepchaiya Un-Nooh 5-6 Xu Si
Yuan SiJun 6-4 Ian Burns
Tuesday February 19
10am
Stuart Carrington 6-1 Lukas Kleckers
Stephen Maguire 6-1 Zhang Yong
Anthony McGill 6-3 Simon Lichtenberg
Fergal O'Brien 5-6 Sam Baird
Luca Brecel 6-1 Andy Lee
Hossein Vafaei 6-4 Hammad Miah
Robert Milkins 6-1 Eden Sharav
2.30pm
Liam Highfield 3-6 Joe O'Connor
John Higgins 6-1 Chris Totten
Robbie Williams 6-2 Tian Pengfei
Zhou Yuelong 6-1 Lee Walker
Jack Lisowski 6-2 Alfie Burden
Graeme Dott 5-6 Gerard Greene
7pm
Neil Robertson 6-0 Hamza Akbar
Judd Trump 6-2 Jak Jones
Chris Wakelin 6-4 Peter Lines
Peter Ebdon 6-0 Sanderson Lam
Yan Bingtao 6-0 Fan Zhengyi
Stuart Bingham 6-2 Chen Zifan
Michael White 1-6 Thor Chuan Leong
Wednesday February 20
10am
24 Mark Joyce 4-6 Nigel Bond
46 Martin Gould 0-6 Rod Lawler
Anthony Hamilton 3-6 James Wattana
Tom Ford 2-6 Oliver Lines
David Gilbert 6-2 Sean O'Sullivan
Ricky Walden 6-2 James Cahill
2.30pm
Michael Holt 6-5 Joe Swail
Li Hang 6-0 Jordan Brown
Mike Dunn 4-6 Elliot Slessor
Kyren Wilson 6-1 Chen Feilong
Lyu Haotian 6-4 Ross Muir
Jimmy Robertson 3-6 Ashley Carty
7pm
Gary Wilson 6-1 Jimmy White
Shaun Murphy 4-6 Adam Stefanow
Andrew Higginson 6-4 Duane Jones
Ben Woollaston 6-1 Li Yuan
Scott Donaldson 6-1 Billy Joe Castle
Ken Doherty 6-3 Paul S Davison