World Seniors Day 4
By Elliott West
This has been an exciting four days of snooker and sadly today it came to a conclusion. Apart from Stephen Hendry, the players left are pretty much what I predicted.
First up was a clash that I have seen so many times in my years of watching snooker. The classic clash of Stephen Hendry versus Jimmy White is always a pleasure to watch and depending on your leaning, ends in elation or painful loss.
Jimmy took the first frame after Hendry needed three snookers. This was with low scoring, the highest break being 26 by Jimmy. Stephen then came back in the next with a 64 break to level it up to 1-1.
However from that point Jimmy kicked into another gear and reeled off two frames in a row, including a fabulous 130 clearance. Now 3-1 up, White just needed to hold his nerve and win one more to face either Ken Doherty or Michael Judge in the final. This was achieved in the next frame when Jimmy won the frame. A convincing win and especially with a 91.3% pot success.

In the other semi- final, Ken Doherty was up against Michael Judge With breaks of 47 and 46, Doherty took the first frame but then Judge levelled it up to 1-1. With the help of a break of 60, Ken was able to make it 2-1
Doherty then started getting into the groove and he able to sink Michael's hopes of reaching the final. A further break of 85 and seizing the next frame, was enough for Doherty to reach the final with an impressive 4-1 score line.
The prospect of a Doherty/White final was a thrilling prospect.

The final itself started scrappy but it was Ken Doherty who managed to take the first frame. Jimmy's pot success was down considerably from the semi- final, down to 75% compared to Ken's 92%. This trend was continued into the second frame with a high break of 93 taking Doherty 2-0 ahead and again in the third when Jimmy was left trailing with snookers required, 3-0 to Ken.
In the fourth frame, Ken outstripped Jimmy by 110-1 and won the frame on a 49 break. Doherty's pot success was now up to 93% compared to Jimmy's 66%. White did manage to clinch the next, was this the start of a Jimmy fight back? Perhaps it was because White continued his ascendancy by taking the next with a 48 break. Jimmy then pulled back another frame to make it 3-4 despite Ken leading 55-36 with two reds on the table and a possibility to win the match.
What an amazing match, Jimmy continues his run by taking another frame with a 79 break to take the match to a deciding frame. Jimmy then wins the decider to come from 4-0 down to win 5-4, what an amazing and memorable win to win back to back Seniors' titles!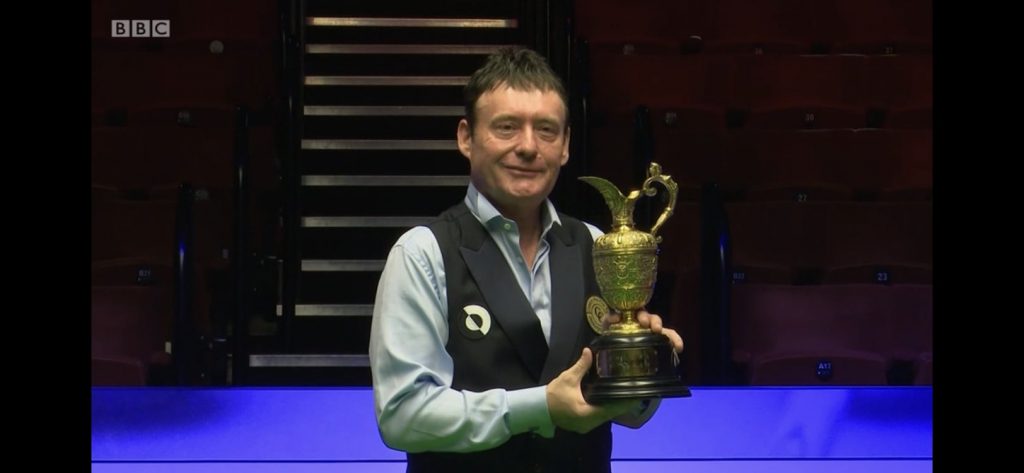 *Photograph courtesy of World Seniors*