World Seniors Day 3
By Elliott West
After the excitement of yesterday's play, a resurgent Stephen Hendry was first up against Aaron Canavan. Aaron had previously survived a scare against Leo Fernandez and so the pressure was definitely on him to match Hendry's newly improved game. Both players started the match well with a 93% pot success but it was Aaron who got in first to take the first frame and Stephen replied with a break of 75 to level the game up to 1-1.
From that point this was the Stephen Hendry Show and Canavan remained in his seat as the Scot made additional breaks of 81, 60 and 53 to claim another impressive win, 4-1. The confidence that was missing from his game is clearly back!

Next up in the afternoon session was Wayne Cooper against Michael Judge. Perhaps this should have been renamed "Judgment Day" as Michael quickly stormed into a 2-0 lead over Cooper. This was then increased to 3-0 before Wayne pulled a frame back with a break of 59 to make it 1-3 but Judge was able to take the next frame to win the match 4-1 and move forward to the semi- finals with Stephen Hendry.

In the evening session, two of the greats of snooker were drawn against each other, Ken Doherty versus Darren Morgan. Doherty tipped as a favourite for this tournament looked on paper to have the advantage of winning this match as he still plays on the main tour. However Darren has already won this title and reached the final again last year and has won numerous amateur titles since his retirement.
Ken quickly took the first frame with a break of 67 and then Darren replied to even the match up to 1-1. They don't call Ken "crafty" for nothing though and a 72 break gave the Irishman a 2-1 lead.
Darren is a dangerous player to play and whenever you feel that you have the advantage, Morgan often comes back and steals your thunder. Ken only had time to savour his lead before Darren knocked in a 66 break to bring it back to 2-2. However in the end this was as as far as Morgan went and Ken was able to claim the next two frames to win 4-2. He will now face Michael Judge in an all Ireland clash.

Last up was Peter Lines versus Jimmy White. Both previous Seniors' champions, this was a match that White could win convincingly or it may go to the wire. Whoever won this match would have to play an in form Stephen Hendry next.
Lines took the first frame but White came back at him with a break of 79 to make it 1-1. Jimmy then made it two on the bounce, 70-34 to take a 2-1 lead. A loose safety in the next by Lines left him at the mercy of the balls and Jimmy put his potting boots on but was only able to make a few points before missing an ambitious red. Lines got back in but missed and spread the reds after several pots. Peter slumped back into his chair but he was quickly back to the table after Jimmy missed the black. However it was White who cleared the table and increased his lead to 3-1, one frame away from the semi-finals.
On to the next frame and Lines potted an early red and then snookered Jimmy behind the brown.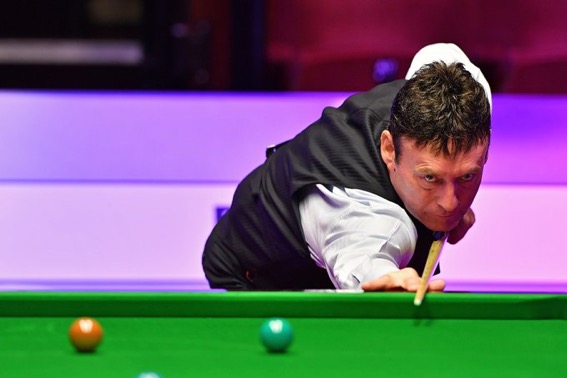 He escaped the snooker and looked like for a moment that he was on for a clearance but he missed a red with the rest, a piece of apparatus that rarely fails him. It wasn't long though before White got back in and left Peter needing two snookers. Jimmy went on to win the frame and match, 4-1, leaving a dejected Peter Lines. Jimmy will play his old foe Stephen Hendry next.